Inflatable Slide Rentals in Toronto
Hart Entertainment offers a wide selection of inflatable slide rentals in Toronto, surrounding areas as well as most cities throughout Ontario. Inflatable Slides are great for school carnivals, company picnics, and special events. They are guaranteed to make your event fun for your guests. All of Hart Entertainment's slides are TSSA approved.
If you are looking for inflatable slide rentals in Toronto, look no further.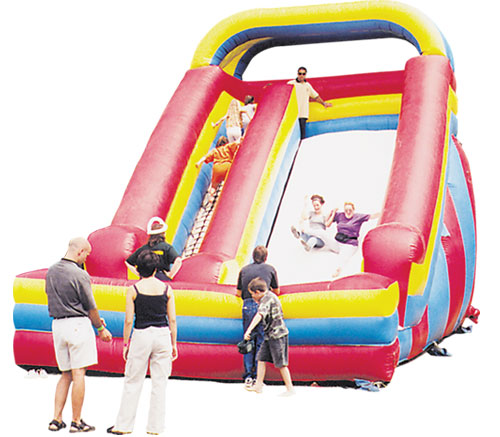 School Carnival Days
A giant inflatable slide is a great addition to any school fun day event. Hart Entertainment carries a wide variety of inflatable slides. Create a spark in school spirit with an inflatable slide. The slide will provide hours of fun and entertainment for staff and students.
Company Picnics
Company Picnics are that one day in the summer that employees can let there hair down, relax, and have some fun. Inflatable Slides are a great addition to any company picnic. With a wide variety of inflatable slides Hart Entertainment is sure to have something awesome for every age group and skill level.
University Carnivals
Universities across Ontario put on back to school welcome week celebrations. These celebrations are a time when students make new friends and form life long bonds. Hart Entertainment has been providing Frosh week entertainment at Ontario Colleges and Universities for over 15 years. The inflatable slide has proven to be a favourite rental for student associations as it builds spirit and instantly creates a buzz at any event.
"The Giant Slide was a huge hit at our school spirit day!"
Katie Sturrup, Markham ON