Money Machine Rentals in Toronto
Hart Entertainment offers money machine rentals in Toronto, surrounding areas as well as most major cities throughout Canada. We handle national money machine promotions for many clients. Our money machine services can include brand ambassadors and or operators. Money Machine rentals are great for car dealerships, corporate events, grand openings, tradeshows, coupon promotions and special events. Money Machines are guaranteed to create interest and long lineups at your event.
If you are looking for money machine rentals in Toronto, look no further. Also providing services in Burlington, Hamilton, Milton, Niagara Falls, Barrie, Cambridge, Kitchener, Mississauga, Oakville, St. Catharines, Brampton, Guelph, London, Montreal, Ottawa and Vancouver.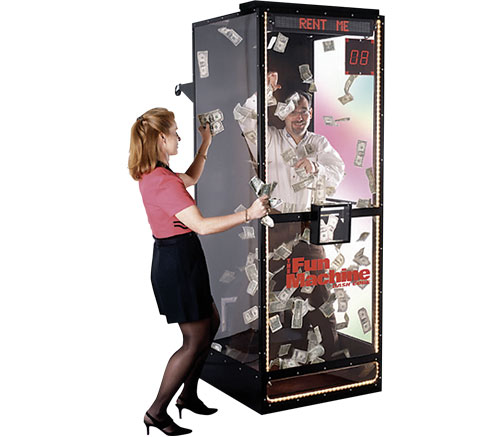 Corporate Events
While money machines have long been a standard attractions at annual corporate events, more companies are finding them to be just the ticket to put a little excitement in their weekly and monthly sales meetings as well. A chance to enter the money machine is an excellent employee incentive to bring in new clients, push new product sales, or beat last months sales figures.
Trade Show Promotion
The sheer spectacle of swirling money and dazzling lights is a guaranteed traffic builder. If your trade show promotions needs a hook, look no further than the money machine. Alternatively, if you want to draw a crowd to your booth, the money machine is your ticket.
Grand Openings
Business promoters know that money machines are an absolute necessity at Grand Openings. The allure of the swirling money guarantees an exciting carnival like atmosphere. Use real money or coupons, people will be talking about the event for weeks to come.
"We rented the money machine and actually had a lineup at the door. Well worth it!"