Popcorn Cart Rentals in Toronto
Hart Entertainment offers a unique variety of popcorn cart rentals for events in Toronto and surrounding areas as well as most cities throughout Ontario. Popcorn carts are great addition to any event and provide guests with a fun snack while they enjoy themselves at the event. Popcorn carts are popular at grand openings, corporate events, weddings, birthday parties, school carnivals and other special events. They are guaranteed to provide that extra excitement at your next event.
If you are looking for popcorn machine rentals in Toronto, look no further. Hart Entertainment offers the largest selection of unique interactive amusements, Inflatables, casino rentals and photo booths for corporate events, bar/bat mitzvahs, weddings, school fun days, and other special events. We provide services in Toronto, and surrounding areas such as Burlington, Hamilton, Milton, Niagara Falls, Barrie, Cambridge, Kitchener, Mississauga, Oakville, St. Catharines, Brampton, Guelph, London, Montreal, and Ottawa.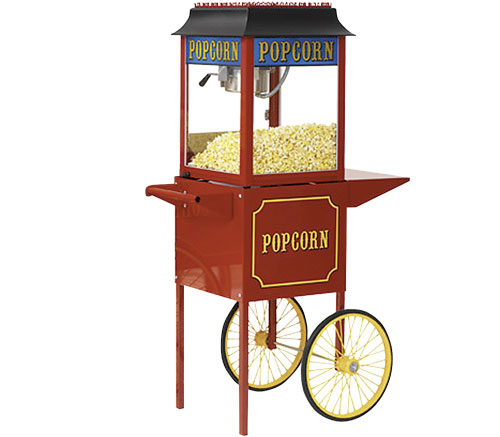 Company Parties
Company parties are a great way to unify your staff and build team spirit. Hart Entertainment has a wide selection of different popcorn machine rentals that will be a perfect snack for employees at your next company event. The popcorn machine is easy to use and makes fresh popcorn in minutes, and lots of it.
Movie Night
Instead of getting large amount of store bought popcorn, why not rent a popcorn cart and make your own popcorn? A movie night with a popcorn cart is guaranteed to be a success as it is a unique addition to a company movie night or just having a party with friends. Hart Entertainment's popcorn carts come with all of the necessary supplies.
Grand Openings
Looking to make your grand opening a popping success? The best way to get people to show up at your grand opening and to keep them their is by creating a memorable experience. Having something to snack on is never over rated and will keep guests happy as they experience your companies offering. Hart Entertainments wide variety of popcorn machines and carts will surely add a special touch to your next promotion.
"We rented the popcorn cart for our store opening and it was a huge success!"