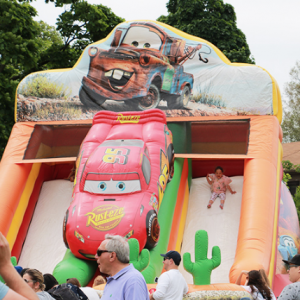 Enjoy a fun back to school carnival this fall with these fun and exciting games from Hart Entertainment. Looking for a unique idea for your next event? Let Hart Entertainment help you plan a terrific themed party with affordable carnival rentals, talented circus performers, interactive games for all ages, and bounce houses. Fun for the entire family!
Here are our most popular games for 2019:
Guests race against time to zap a pesky mole! Zap-a-mole is a classic favorite from in our carnival rentals. Every guest will enjoy this game.
Enjoy one of our most popular Disney inspired games. Your favorite Pixar movie comes to life in this exciting cars double lane slide. Our double slide will be the hit at your carnival.
Featuring Canada's favorite hockey team, enjoy this exciting Hockey Obstacle inflatable. Your guests are guaranteed to enjoy hours of fun!
Don't forget to treat your guests to delicious treats with our custom Antique popcorn cart. Buttery yum! Ask us about some of our other popular food carts.
Guest get to win their own JACKPOT! Rent our incredible Whip-N-Skip giant skill game for your event. Challenging and exciting!
Bowling enthusiasts can't get enough of our fun Strike Zone game. Hit as many pins as you can with this classic carnival game.
Kids will absolutely LOVE this fun and friendly giant fire dog inflatable. Perfect for any age. The see-through mesh ensures easy supervision. Designed for any age, the Fire Dog Belly inflatable also has special safety features for your youngest guests.
Enjoy this classic carnival game! Toss a ring and try to win a prize.
Your back-to-school guests will enjoy a fun nine-hole mini-golf game suitable for adults and kids alike. Balls and putters included.
In this zany fun game, players knock down cans with bean bags. A great game for kids and adults! Don't forget to ask about our specialty prizes.
Call us today about planning your next event. We are happy to help you create the most exciting experience ever for your guests!