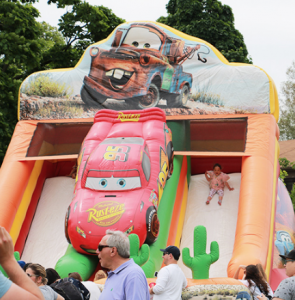 Goodbye summer, and hello spooky Halloween! Need some tips for planning the perfect Halloween party? It's time for the Monster Mash, pumpkin spice everything, creepy crawlies, and ghoul-inspired virtual reality arcade games. Scarecrows and spiders and vampires, oh my! Check out these great Halloween tips for the perfect Halloween party in 2019!
TIP 1: Add a Little High Tech Horror
Sure, your office manager dressed as The Thing may freak out a few guests, but in 2019, the horror is in the technology. Whether your guests battle monsters in our exclusive virtual reality arcade games or defy death in the world's most THRILLING virtual reality roller coaster, bringing in the top technology to your Halloween party will make your event the talk of the town.
What's Halloween without a little mystical magic? Call us today about our incredible line of magicians and performers. Engulf your guests with enigma and wonder as objects mysteriously vanish right before their very eyes. Dazzle guests with unique magician performances during your Halloween party.
TIP 3: Don't Forget the Finger Food
Besides horrifying traditional Halloween decorations like creepy moving portraits and horrific ghouls, don't forget the finger foods. Combine your own dastardly creepy eats with classic food cart party rentals like cotton candy, delicious antique popcorn, and a branded ice cream cart. Keep your undead guests fed and happy with our hot dog cart options.
TIP 4: Entertain with Awesome Fall Games!
These popular games and attractions provide hours of fun for your guests. Great for all ages, classic fall games like corn hole and electronic football are a great addition to any party. And don't forget classic favorites like our hockey inflatables and more.
Hart Entertainment will help you make your next Halloween party a hit! Call our talented staff about our impressive selection of party rentals, inflatables, photo booths, and more. No matter the theme for your party, we can customize a special package of THRILLER party rentals just for you. From Halloween horror and zombie madness to spooky alien invader fun, count on Hart Entertainment to bring your guests the fun and excitement of a lifetime! We offer worry-free planning service so the only thing you need to worry is about having a Spooktacular time! Call us today about planning YOUR amazing Halloween event!