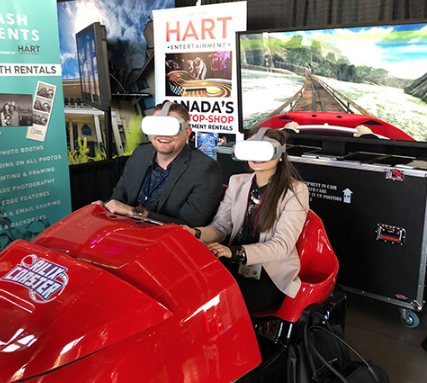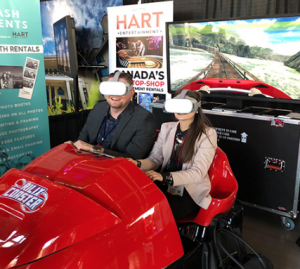 Halloween is right around the corner. Want to have a killer Halloween company party? Time for costumes, pumpkin-spice wonderfulness, big SCARES, and awesome party THRILLER rentals from Hart Entertainment. Hart Entertainment has you covered with the ultimate in fun for your killer office party! Check out some of our TOP Halloween rentals for 2019!
Let your guests lose themselves in mysterious fantasy landscapes or fight off dangerous spooky enemies with the out-of-this-world 2-player HTC Vive. Your Halloween company party will be the talk of the town as players fight in combat or collaborate on incredible killer adventures. These are great for any private or corporate event. Talk to our helpful Halloween party planners for the best games for your gruesomely awesome event.
Your guests are in for the THRILLER of a LIFETIME with our incredible Virtual Reality Roller Coaster. Guests choose from an exciting choice of TERRIFYING rides, featuring our integration vibration system and realistic simulator. Not for the faint of heart!
Imagine what would happen if zombies, Frankenstein, and the Hulk all battled in a massive last person standing monster battle? You can have it all at YOUR company event with our gigantic inflatable gladiator arena. Four participants compete to knock each other off of their pedestal. This is one way to make your Halloween party the event of the millennium!
Do you dare to know your future? Our experienced fortune tellers read palms and offer tarot card readings. The perfect addition for any scare soiree. Convince your guests to find out what fate may have in store for them.
Hart Entertainment has a wide array of classic video arcade games like Space Invaders, Donkey Kong, and Pac Man. Your guests will enjoy fighting off sneaky ghosts, zapping alien space invaders, and outsmarting a giant gorilla in these beloved video games.
Contact our experienced staff today about planning the most THRILLING and EXCITING Halloween event of 2019.