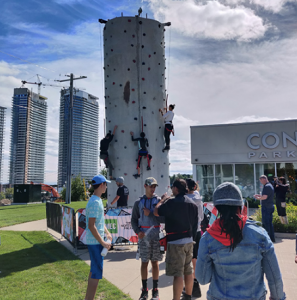 The summer is the perfect time to plan an outdoor corporate event! The sun is shining and you have countless options for an incredible summer event. Let's check out some of the TOP trending creative corporate event ideas for 2019.
Ultimate Sports Events
Your guests will love our exciting sports-themed competitive games and inflatables. Enjoy creative corporate ideas like our state-of-the-art Sports Simulator or gigantic Hockey Obstacle Course. Host your own Summer Olympics. Get your visitors interacting and moving in exciting team-building events and games. Choose traditional attractions like a giant boxing match, soccer, or tennis. Or go all-out with our thrilling 28-foot rock-climbing wall!
Toronto Maple Leafs Outdoor Event
Everyone loves the Toronto Maple Leafs. Summertime is the perfect time to plan an incredible Toronto Maple Leafs outside event. Enjoy our incredible giant hockey inflatables and games or add a trendy themed social media photobooth. Our expert party planners will help you find the perfect attractions, food carts, and outdoor games to make the summer event of the year! Enjoy worry-free installation from our seasoned staff while you focus on your guests.
Go Glow!
Take advantage of the cool summer nights with an array of fun glow-in-the-park ideas! Host a fun LED Mini Golf course or host the perfect Las Vegas Night Club inspired event with LED Blackjack Tables, Las Vegas backdrops, and LED Poker Tables. Add decorative accents like LED Cruiser Tables, giant LED Dice and LED Accent Cubes. Transform your event into a glow-tastic-adventure. Talk to our party professionals about which exciting games and glow-in-the-dark decorations will give you the perfect nighttime party.
Outdoor carnival games are once again trending HOT this summer! Why? Between fun performers, delicious food carts, and exciting outdoor games for the whole family, your corporate carnival is sure to be the most memorable event of the year! Call us today to find out which exciting carnival games, performers, and more Hart Entertainment can provide.
Hart Entertainment helps you plan next level corporate events. We have everything you need to plan the perfect company party. From high-end photobooths to family-friendly inflatables, Hart Entertainment is your one-stop shop to find what you need to host the event of the summer. Contact our friendly staff today. We will help you with planning, site inspection, and worry-free installation. Don't wait any longer.